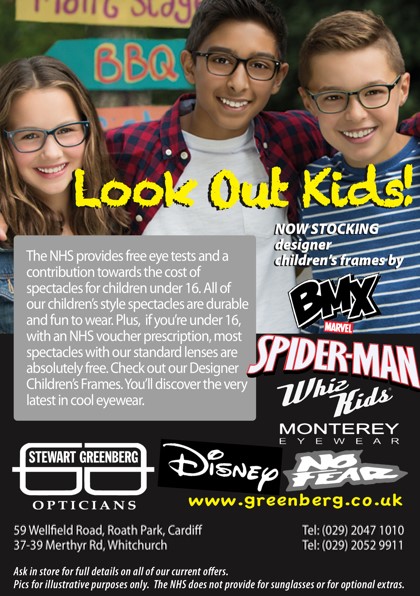 Your Child's Eyesight
Your child's eyesight is precious. Without good vision children can suffer enormous setbacks to learning and the development of all their life skills. Many parents do not realise that eyesight can be tested from a very early age and that it is recommended that children should have an eye examination at least by the age of 3, or earlier if you think there may be a problem.
Many sight defects such as long or short sightedness, astigmatism or squint can be inherited. If there is a history of any of these in your family your child's eyesight should be tested on a regular basis. That's why the NHS offers free eye tests to all children under 16 and full-time students under 19.
Special tests have been devised for very young children and the earlier a problem is detected the more effectively it can be treated. The great thing to remember is that the eye examination doesn't hurt.
What if your child needs glasses.
If the time comes when a child needs to wear glasses, this need not be seen as a disadvantage. The wide varieties of spectacle frames now available are comfortable and practical as well as stylish. And if your child does need glasses, you'll receive a contribution from the NHS towards the cost and be able to choose from a wide range of spectacles specially designed for children's faces, some of our range will be free of charge with the NHS voucher.
We will discuss the different options with you and only recommend spectacles that suit both your child's needs and your budget.
Spectacles for young eyes.
You will find that our practices offer a wide range of attractive styles specially designed for young faces. Many have soft nose pads for extra comfort and sprung hinges to stand up to the rough and tumble of everyday life.
Children must feel comfortable about wearing spectacles – or they won't use them when they should. So we will explain why glasses are important, as well as ensuring that they will fit well and look good.
Normally we supply modern plastic lenses as they are safer and lighter than glass. They are available with coatings which resist scratches and block out potentially harmful UV light. For even greater protection however made of polycarbonate. Although more expensive, they are virtually unbreakable and are ideal for children's spectacles.
Special Offers
Take a look at our current special offers