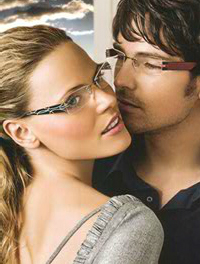 Types of lenses
The dispensers at Stewart Greenberg Opticians are highly trained in accessing individual customer requirements and will spend time explaining the many options and advise on the most suitable.
A selection of newer lenses follows:
Thin and Light:
Lens technology has advanced, enabling thinner lenses for all prescriptions and lighter lenses to provide greater comfort.
Reflection Free:
An anti-reflection lens coating will substantially reduce glare from night driving and computer screens, and cosmetically improve the look of your spectacles.
Scratch Resistant:
A hard coating will help protect the lens from scratches, making them tough and durable.
Varifocal Lenses:
Varifocal lenses give comfortable, sharp vision at all distances, allowing the wearer the convenience of one pair of spectacles for all purposes.
Light Sensitive Lenses:
Changing light conditions occur frequently, and for people who are sensitive to glare, Photochromic lenses are the perfect solution. Photochromic lenses vary in tint as the spectacles become exposed to sunlight, offering the convenience of sunglasses and normal lenses in one.
Polarised Lenses:
The polarised lens is perfect for eliminating glare and preventing eye strain in situations of intense sunlight. The polarised lens is ideal for driving on wet roads or for sports such as fishing, skiing and sailing.
Colours and Tints:
Stewart Greenberg Opticians can provide a variety of tints for all lenses - from gradual tints to full tints - in a variety of colours.